Want to paint but need inspiration?
Try following your fancy to a new color story!
Today I encouraged my students to paint from their fancy. For my 'Fancy' demo I selected a color story from a magazine picture which I put to use in my own imagined composition. If you love color but sometimes find yourself at a loss as for which ones to use, or you are simply bored with your usual fare… try this trick; find a picture with colors you like and use them as your inspiration.
I was not interested in the little boat in front of the house and trees. I was not interested in the subject matter at all, but the colors… now they wowed me. I fell in love at first sight over the soft green-turquoise, olive green and lavender combinations. And then there was this pop of red. Be still my heart. Enjoying the subtle "Ahhhs." Might have been nice enough alone, but I knew there could be so much more. I searched my box of pastels, until I isolated each color in the magazine photograph. Once I satisfied my palette the fun could really begin.
Here are the stages of my play.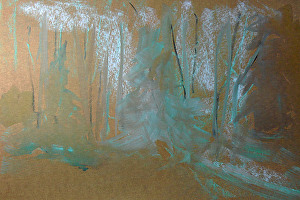 1. First I sketched a few trees with a light pastel, onto my Wallis Belgium Mist sanded paper. Then I washed Gouache around where I imagined a few trees might grow.
2. Next I roughed in some local colors.
3. I continued to explore places for those lovely colors. "Hum, where can I put that lavender?" and such. I also sketched back and forth in the background trees with sky and tree colors, all of similar value, to get a softer look going in my background.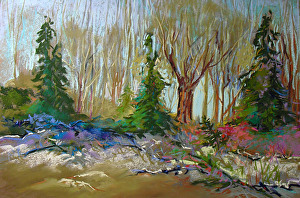 4. Next I massed bush and tree shapes in with a pastel very near the color of my paper.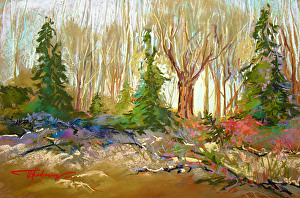 5. Finally, I used a soft yellow-orange pastel to light up the sides of my background trees. Added more colors to the sunny area on the right side of my painting and signed my name in that lovely pop of red.
Tomorrow, after sleeping with my painting by my bed, I will solve other challenges. I add or move trees, details and such, but a great fun was had today from a simple magazine color story.
Have fun painting; that way you'll always have access to happy thoughts. Then like Peter Pan you can always fly.
Susan